The OPC I is responsible for donor evaluation, surgical recovery, storage, shipment, preservation, managing the organ while on a device such as OCS by Transmedics, and packaging of all organs for transplant. This coordinator position performs various technical and monitoring procedures that are involved in the retrieval and preservation of organs for transplant and/or research.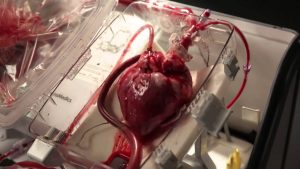 This job will require being on call for periods of up to 24 hours. Provides appropriate equipment, solutions, and pre-operative supplies for recovery and preservation of solid organs in local donor hospitals and during "fly outs." Performs surgical/OR techniques during organ recovery as they relate to organ preservation, including preparing necessary equipment, solutions, and back tables as needed as well as labeling, packaging, and transporting of organs and tissue specimens according to regulatory requirements. Works closely with the procurement coordinators. This nurse coordinator career may be reserved for APRN (aka "Advanced Practice Nurse) and/or MCS (mechanical circulatory support) coordinator. 
Performs machine pulsatile organ preservation techniques as directed. May assist recovery surgeon in removing organs from deceased donors; inspects, dissects, separates and/or packages organs upon removal, according to established procedures. Documents organ anatomy and other organ preservation information in the donor record prior to leaving the donor Operating Room. Breaks down cleans and sterilizes equipment following organ recovery. Maintains organ preservation lab and restocks equipment, supplies, solutions, and other inventory as needed; monitors the rotation of stock supplies as needed. Surgical recovery coordinators are available to assist in the operating room set-up, as well as the preservation, packaging, and distribution of organs recovered for transplantation.
Also, this transplant coordinator's job assists with continued improvement and implementation of policies and procedures relating to organ preservation according to UNOS, QAPI, and CMS guidelines. Qualifications: The successful candidate will possess 3-5 years of transplant preservatist experience. A minimum Associates degree, EMT, or Paramedic preferred. Excellent knowledge of human anatomy. A demonstrated ability to relate to all levels of staff. Excellent interpersonal communication skills.
Performs aseptic recovery of tissue; including, but not limited to, ligaments, tendons, heart valves, saphenous vessels, and skin, and more according to departmental policies and procedures. Performs in-situ flush of all organs available to travel distances greater than one hundred miles and function effectively in unfamiliar hospital environments. 
EDUCATION & EXPERIENCE REQUIREMENTS
Associate Degree or Certified Transplant Preservationist (CTP) or Certified Tissue Bank Specialist (CTBS) certification required.
Bachelor of Science in Health Science field preferred. Certified Surgical Technician, Emergency Medical Technician, CTP, CTBS, RN, or LPN preferred.
Knowledge of abdominal and thoracic anatomy required. Basic understanding of kidney anatomy, surgical dissection technique, suturing, vascular surgery, cellular metabolism, and laboratory values within six months of employment required. Valid Driver's License required. Operating Room experience preferred.
SALARY EXPECTATIONS
Usually, this position's salary will range from $45,000 – $95,000+/- per year depending on where your home base location is, cost of living etc. Lower-end incomes are usually for those beginning in the field and in regions where the living costs do not warrant higher wages. 
LADDERS – LINKEDIN – GLASSDOOR – SALARY – INDEED – ZIP RECRUITER – MONSTER – CAREER BUILDER – SIMPLYHIRED